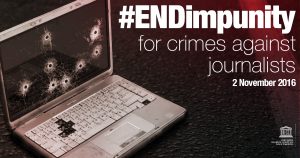 To mark the International Day to End Impunity, the Centre for Freedom of Media will host a special event focused on justice for victims of crimes against journalists for students and staff, during our International Journalism Week on Wednesday, 9th November.
Guy Berger, Director of the Freedom of Expression and Media Development Division of UNESCO, will speak on the theme 'Your right to know relies on justice for journalists under attack'. The lecture, which is open to all students and staff of the University, will be followed by an open Panel discussion with international journalists and experts. They will share their knowledge and experiences on the dangers and barriers of the working environment for journalists. The discussion will highlight the combined efforts of UNESCO, other UN bodies, governments and other key stakeholders to create a safe environment and to combat impunity.
Guy Berger is Director for Freedom of Expression and Media Development at UNESCO. He is responsible for the Organization's global work on press freedom, safety of journalists, internet freedom, media pluralism and independence, gender and media, media and information literacy, and journalism education. Before joining UNESCO, he headed the School of Journalism and Media Studies at Rhodes University, Grahamstown, South Africa. He has also worked in both press and television and had a long-running column on the The Mail & Guardian website. Besides that, Guy Berger was the deputy chair of the South African National Editor's Forum. He holds a Doctorate in Philosophy, from Rhodes University,  has published extensively, and has won several awards.
Read more about what UNESCO are doing to mark 2016's day to end Impunity.
Read about the UN plan of action on the safety of journalists and the issue of impunity
Read the UNESCO Director General's report on the Safety of Journalists and the Danger of Impunity (available from 2nd November)
---
Date and time: Wednesday 9 November, 2016;  10.00 to 11.30
Venue: University of Sheffield, Diamond Building LT7,
The CFOM Lecture will be given by Guy Berger, Director, Division for Freedom of Expression and Media Development, UNESCO
Title: 'Your right to know relies on justice for journalists under attack'
Followed by a Panel Debate with:-
Moderator: William Horsley, International Director of CFOM, former BBC foreign correspondent Guy Berger, Director, Division for Freedom of Expression and Media Development, UNESCO, Tonia Samsonova, London Correspondent,  Echo of Moscow radio station, Founder of 'The Question'  Ghias  Aljundi, Journalism safety trainer and human rights consultant in the Middle East and North Africa, Elisabeth Witchel, Author of Committee to Protect Journalists "Getting Away With Murder – 2016 Global Impunity Index"
---
 For more information please contact Dr Lada Price, Department of Journalism Studies, University of Sheffield at lada.price@sheffield.ac.uk