Launched at UNESCO's research conference on the safety of journalists during the World Press Freedom Day celebrations in Helsinki in 2016, the aim of the Journalism Safety Research Network (JSRN) is to advance academic research communication and collaboration in the area of journalism safety.
Hosted by the Centre for Freedom of the Media (CFOM), at the University of Sheffield, the JSRN is a global network that brings together researchers with a common interest, concern or engagement with the safety of journalists, the issue of impunity and the promotion of free and independent journalism. The JSRN is a global network of over 250 researchers who work at universities, research centres and civil society organisations in over 50 countries.
Read more about our network here.
Sign up to the JSRN here to receive information on the work the JSRN does and also to be notified of upcoming events.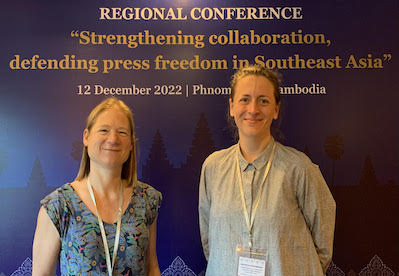 CFOM's Dr Sara Torsner and Dr Diana Maynard participated in a Regional Conference in Cambodia in December 2022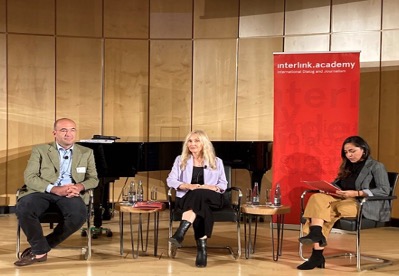 UNESCO Chair, Professor Jackie Harrison, at the International Media Development Conference, Hamburg, Germany, September 2022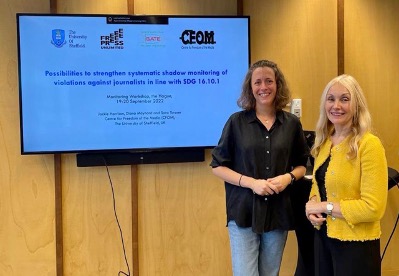 UNESCO Chair, Professor Jackie Harrison, and Research Associate, Dr Sara Torsner, at a Free Press Unlimited workshop, The Hague, September 2022
The aim of the JSRN is to contribute towards the development of joint spaces for research co-operation and innovation by enabling the sharing of knowledge and expertise, as well as wider suggestions for understanding and addressing the complex issues associated with journalism safety. The JSRN serves to facilitate the exchange of ideas, publications and networking opportunities through conferences, seminars and workshops as well as the development of research agendas and policy proposals. We also seek to present and promote academic voices in the context of the development of international policy agendas on journalism safety and the implementation of the UN Plan of Action on the Safety of Journalists and the Issue of Impunity.