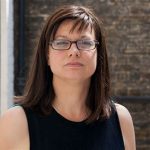 Rachael Jolley is an award-winning editor and journalist and a Research Fellow at CFOM. Her work has brought international acclaim including the Hermann Kesten prize, the British Society of Magazine Editors' specialist editor of the year, Telegraph young science writer of the year (merit award) and the Grand Apex award 2017. Until 2020 she was the editor-in-chief of the award-winning magazine Index on Censorship for seven years, where she worked with writers including Amartya Sen, Margaret Atwood and Ngugi wa Thiong'o. She was a board member of the US Press Freedom Tracker. She is also a guest lecturer at the Reuters Institute in Journalism at Oxford, and at journalism schools at Cardiff, Liverpool John Moores and Nottingham Trent universities.
She has written for the New Scientist, New Statesman, The Times, The Telegraph and Prospect magazine. She launched a regular radio show on Resonance Radio and has appeared as a guest speaker on freedom of expression issues around the world including at Bristol Festival of Ideas, the Hay Festival, Social Science Foo in California, the Gdansk Museum and Leipzig library. Appearances on radio and TV include Channel 4 News, BBC Today, BBC World, LBC, Monocle, and Project Censored radio show (US). She also curated a series on NPR radio on freedom of expression.
She is currently a contributing editor for Index on Censorship and for the pan-European magazine Eurozine.