There were three panels that ran on the day of the weaponisation of the law against journalists and media freedom symposium. You can find panel information and recordings below.
Panel One 
Panel One featured speakers including Eryn Jersey Cadapan and John Dominic Sunga who discussed laws and practices instituted on journalists safety worldwide. Chris Paterson discussed war reporters under threat in relation to the United States and media freedom. Miral Sabry AlAshry talked about the efficacy of Egyptian Data Protection Law. Sriram Arulchelvan then spoke on the legislative protections available to journalists in India and Mariam Gersamia closed the panel by discussing the instrumentalization of the law for media capture in Georgia. The panel was chaired by William Horsley.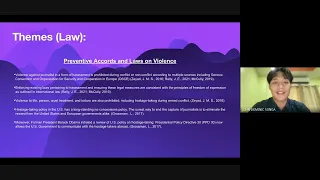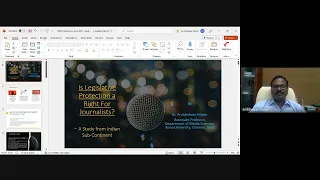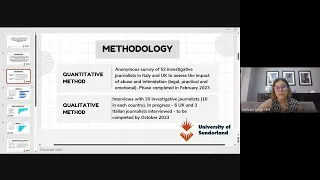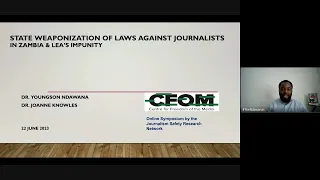 Panel Two
Panel Two was chaired by Chris Paterson and included presentations from Jeremaiah Opiniano who spoke on policies covering the safety of journalists in The Philippines. Barbara Longo-Flint discussed legal intimidation against journalists in the UK and Italy. Youngson Ndawana spoke about how the state in Zambia is weaponising laws against journalists and impunity. Neerej Dev closed the panel with a paper focused on legal constraints for Indian journalists. 
Panel Three
The final panel of the symposium was opened by Gever Verlumun Celestine discussed legislative protections for journalists in Nigeria. Solace Yawa Asafo spoke about journalism students' knowledge and awareness of safety issues. Rune Ottosen talked about the Norweigian media's portrayal of Julian Assange and US war crimes. Ngozi Comfort Omojunikanbi then talked about the fight against impunity in Nigeria. Ricki-Lee Gerbrandt discussed press freedom interests in the UK Online Safety Bill. Paulina Gutiérrez closed the session by discussing how courts are responding to SLAPPs in jurisdictions without anti-SLAPP measures. Giuliana Tiripelli chaired the panel.