by Andrzej Krajewski
"Addressing Global Challenges to Journalism and Press Freedom" was the theme of the International Summer School hosted by Sheffield Hallam University in cooperation with the University of Sheffield in the last week of July 2019. On 28 July CFOM's international director William Horsley chaired a Panel Session on "Media Capture as a threat to democracy and press freedom".  The speakers were Andrzej Krajewski, a former adviser on freedom of expression in Poland's National Broadcasting Council, and Alberto Spampinato, founder of Italy's leading NGO which monitors cases of violence and intimidation against media workers.
Media capture means the control of influential media by political or business interests. In this special report Andrzej Krajewski presented the interim results of a detailed monitoring exercise whose aim is to analyse how Poland's Law and Justice Party (PiS) government has exerted its dominant influence over the public broadcasting sector, especially Polish national television (PTV), to mould public opinion in its favour and discredit opposing voices.
You can see full footage of Andrzej's presentation at the International Summer School at the foot of this article.
1. Introduction
In 2017 the Freedom House report about the assault on press freedom in Poland began with this poignant remark about "Wiadomości" (the News), the main evening newscast on Polish public television (TVP):
"Shortly after winning parliamentary elections in October 2015, the right-wing Law and Justice (PiS) party replaced the management at the public television and radio broadcasters. Since then, the public television station's evening news program has become a mouthpiece for the PiS government, lauding its daily successes at home and abroad".
In order to ascertain the extent of that bias, the Journalists' Society (Towarzystwo Dziennikarskie), an NGO active in Poland since 2012, decided in 2018 to monitor "Wiadomości" before local elections in October, then again during the campaign period for European Parliament elections in May 2019. The monitoring will be continued in autumn of 2019, when parliamentary elections are due, and in spring of 2020, before the presidential ones.
2. "Wiadomości" in local elections 2018
As of April 2019, television is still the main source of news in Poland for 58 percent of the population, the Internet is next with 27 percent; radio has 9 a percent share and the press only 2 percent.
Among television broadcasters public television takes the biggest viewing share: 28 percent, followed by two private broadcasters: Polsat (Polish owned) with 25 percent and TVN, owned by Discovery, with 22 percent. Other broadcasters have much smaller shares of the market. 
TVP has three main newscasts a day with a combined total of 5.8 million viewers: "Wiadomości" (the News) at 7:30 p.m. with 2.4 million viewers, "Teleexpress" at 5 p.m. with 2.1m viewers, and "Panorama" on public television's second channel (TVP2) with 1.3m viewers. Polsat's "Wydarzenia" (Happenings) has 2m viewers, and TVN's "Fakty" (the Facts) is the single most watched daily news programme with 2.9 million.
Keeping these facts in mind the Journalists Society monitored "Wiadomości" from September 17 -October 17 2018, and from May 10 to May 24 2019.  The purpose was to record the amount of air time – or pictures and audio (P&A) – devoted to information about all candidates in election related items; to measure the P&A time given to all the political parties; to analyse the positive or negative content or tone of other items related to elections; and to identify examples of practices that are out of line with Article. 21.1 of the radio and television law, which requires public media to be "pluralistic, impartial, well-balanced, independent and innovative".
Local election findings:  In the weekly index of news categories (see the chart above) between September 24 and 30 2018, the most frequent category of editorial coverage was what the monitors describe as "stimulators" (of support for the government or the ruling party); they accounted  for 32 percent of 72 stories aired in that week. The next most common categories were "demeaners", which portrayed the opposition negatively (27 percent) and "promoters" of the government line (25 percent). One election-related lie was identified during that particular week; it was a suggestion that the top official of the city of Radom, who was standing as an opposition candidate in the local elections, had been implicated in a corruption scandal. He was not.
The monitoring showed that the ruling PiS (Law and Justice) Party's election candidates accounted for 70 percent of the attention given to all election candidates statements/interviews (Pictures and Audio) aired in "Wiadomości". The much shorter amount of time given to items about the opposition consisted mainly of rebuttals from the government side. Whenever an opposition candidate was given airtime to make his/her own point it was negated in words spoken by the reporter or by other speakers who were mostly known government sympathizers; those carefully selected individuals were often invited to comment on multiple topics on the programme. 
The cumulative effect of this one-sided reporting in Wiadomości's output was to emphasise a sense of national pride among Polish viewers, show approval of patriotic traditions, fuel fear of immigrants and show how Poland was standing up against "the bureaucrats" in Brussels.  In short the monitoring exercise demonstrated a persistent bias in favour of the governing party in the reporting of the campaign by Poland's main public service TV news programme. 
The monitoring results were widely reported by the media. The Journalists' Society also sent them to number of relevant official institutions, including the State Election Commission (Państwowa Komisja Wyborcza – PKW) and National Broadcasting Council (KRRiT ), the regulator. The Election Commission wrote on February 11, 2019 to the KRRiT asking it to 'initiate actions which would ensure that the participants in the elections would be treated fairly in the media and especially in the public service media'.  The PKW specifically called on the Broadcasting Council to undertake monitoring of the media's coverage of the election campaign.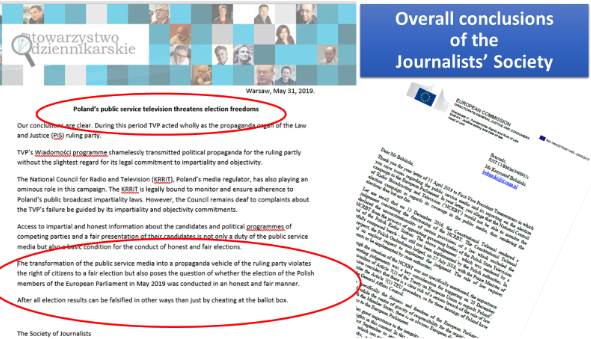 The KRRiT replied  on March 11, 2019 saying that it would be unable to monitor the campaign due to a lack of funds and of available experts, as well as of time to recruit the monitors.  The KRRiT failed to mention that in the past it had monitored media coverage of election campaigns, and financial documents in the public domain appeared to show that it had ample funds to conduct media monitoring again. 
The Journalists' Society considers that this correspondence shows Polish voters cannot rely on state institutions to enforce the agreed rules on the conduct of media during elections.  Indeed, as long as Poland's public service media fail to provide unbiased reporting the electoral process will remain fundamentally flawed, because public radio and television have such a dominant role in the society as a source of information.
3. "Wiadomości"  in European Parliament elections 2019
In May 2019 the Journalists' Society renewed its monitoring of "Wiadomości".  
Between 10 and 23 May 2019 two thirds of all the news items (105 out of 153) on Wiadomości" were election-related. Out of 70 items focused on the ruling party, PiS, 69 were assessed as being positive and only one was neutral. The opposition European Coalition was mentioned in 33 items, all of which were negative. A further two negative items concerned the Konfederacja, a nationalist group to the right of PiS. Other parties contesting the election — such as the Wiosna (Spring) , a liberal lifestyle and pro-environment party, Razem, a traditional left wing party, and Kukiz 15, led by a one-time rock singer Paweł Kukiz, — were not mentioned at all.
Jarosław Kaczynski, the PiS party leader, was by far the most visible politician on "Wiadomości". His picture and audio (P&A) appearances lasted for a total of 12 minutes and 18 seconds, which was 11 percent of all P&A in the monitoring period. On May 24, the last day of campaigning before the election, he was also invited to appear as "Wiadomości's Guest", giving him a further 8 minutes and 32 seconds of , raising his total time in "Wiadomości" to 21 minutes. 
Among the five most frequently covered politicians on "Wiadomości"  four were leaders of the ruling party. The leader of the opposition European Coalition was in fourth place; prime minister Mateusz Morawiecki was in sixth; seventh and eighth were the president of the European Council, Donald Tusk and Rafał Grupiński, an MP from the Civic Platform who was recorded by a hidden camera during a street demonstration on May 18. That video was broadcast on "Wiadomości" for 7 consecutive days.
The monitoring also analysed the contents of all the news items according to their positive and negative presentations of the competing parties. 
Green color (in the chart below) indicates information which was positive for the government and PiS party. Red shows items which were negative for the opposition (European Coalition). Blue denotes foreign news items, yellow is Catholic church news, and white denotes politically neutral items.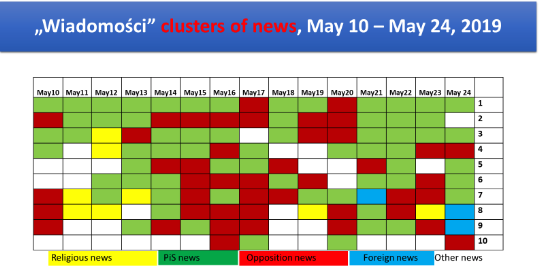 Clearly 'positive' or 'negative' news items frequently appeared in clusters of two, three or more similar items presented one after another. A cluster of 6 positive news items for PiS was broadcast on May 22, and clusters of 4 news items negative for the European Coalition were broadcast on May 15, 17, 23 and 24. Out of 14 days of monitoring in only 5 cases was the first positive news item for PiS not reinforced by several more of a similar nature. And only 12 out of 173 negative items about the European Coalition were not followed with at least one more news item in the same negative tone.
Our analysis found that the practice of blocking the same kind of news into "clusters" strengthened their impact. Such a technique is characteristic of propaganda messages rather than the provision of impartial news.  
Another propagandistic technique observed was the repetition of the same or similar themes day after day. During the period of "Wiadomości" monitoring certain recurrent themes were featured on several days, as follows:-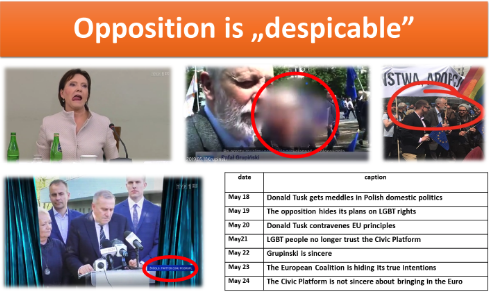 LGBT issue. A conversation with Rafał Grupiński, one of the leaders of the European Coalition, was recorded on a hidden camera (see top right picture, below) by two TVP reporters, and then shown on "Wiadomości" with their faces blurred (top middle picture). They asked him about the coalition's plans for allowing gay marriages and the adoption of children by same sex couples. Grupiński is heard to say that the Coalition has to be cautious with moving ahead on this front because of the sensitivity of the issue in conservative rural areas and small towns. The item was shown in seven successive b The bulletins were also used systematically to denigrate or ridicule opposition politicians. In the top left picture former prime minister, Ewa Kopacz, was pictured in an unflattering image recorded during her grueling 6-hour interrogation by a parliamentary committee. Below: opposition leader Grzegorz Schetyna, was mocked on PiS' Twitter page. 
Paedophilia. During the EP election campaign a scandal broke about a string of past cases of the sexual abuse of children by members of  the Catholic clergy. "Wiadomości" showed a table made by the Ministry of Justice which was meant to show the occupations of those convicted of the crimes.  It showed the largest category as 'unemployed people'. Another category was labelled 'bricklayers and plumbers'. There was no column at all referring to priests. "Wiadomości" also avoided any mention of a shocking film made by Marek and Tomasz Sekielski about priests and their victims entitled "Don't tell anyone". The film had received over 20 million viewings on YouTube. Yet "Wiadomości" restricted its coverage to several passing mentions of paedophilia in reports dealing primarily with other topics.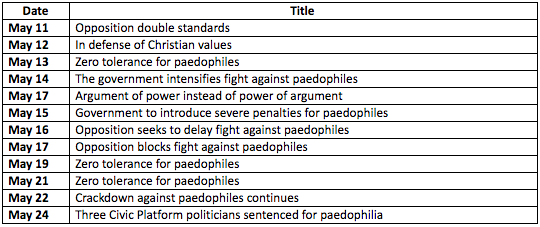 Holocaust Victims Compensation and German compensation. During the election campaign the far right Konfederacja coalition ran a campaign warning that Jews in the US were planning to demand compensation for losses of property which had once belonged to Jewish people who had no living heirs. The US has passed a law which could lead to such compensation being demanded from Poland.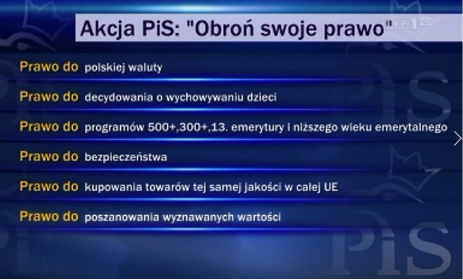 "Wiadomości" re-used PiS election broadcast materials as part of their coverage. On May 11th  the piece about the PiS party convention in Bydgoszcz displayed the party's election pledges, which were endorsed supported by the newscaster's  comment saying that "the package of government responses represents the construction of a just state where its citizens live in solidarity with each other." The title of the item was "PiS actions: defending your rights", and it cited those rights as the Polish currency (the zloty); child support for families (500 zlotys for each child), 13 months of pension payments per year, a lower retirement age, public security, a guarantee of EU goods quality, and respect for "your values".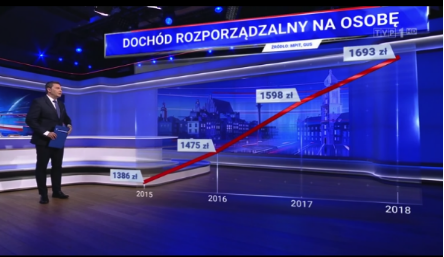 Misleading graphics. "Wiadomości" declared as a fact on May 14th that "Poles can afford to spend more". The line of the graph showed per capita national income  growth rising steeply (see next image), but in fact the growth is more gradual, as shown in the second graph, below.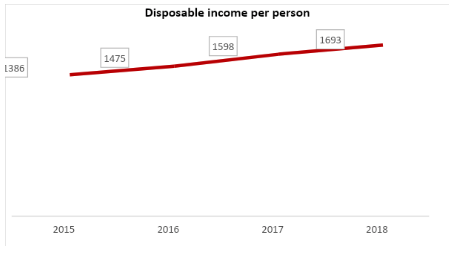 Deliberate deception ("fake news"): On 24 May 2019 "Wiadomości" broadcast some publicity for an upcoming TVP programme about Donald Tusk, the President of the EU. In it a "journalist from Belgium" was interviewed who said in French: "He is scornful of Poles and Poland. Tusk is damaging Poland". The sound bite was contained in a trailer for a programme to be shown on TVP Info, the 24 hours public service news channel. Later the interviewee was identified as an intern for TVP called Sebastien Meuwissen.  He speaks Polish and works for the Visegrad Post portal. His Facebook page gives his place of residence as Warsaw. So Mr. Meuwissen was falsely presented to viewers through a deliberate deception about his identity and his association with TVP.
4. Conclusions
The monitoring of "Wiadomości" conducted on May 10-24, 2019, demonstrated that the main public TV news programme routinely failed to fulfil the conditions of Article 21.1 of Poland's Law on radio and television broadcasting, which requires public service television to be "pluralistic, impartial, well-balanced, independent and innovative".
Qualitative and quantitative analyses of "Wiadomości" both indicate that the programme regularly broadcast content which favoured the ruling party, while omitting, downplaying, ridiculing or vilifying opposition parties candidates and politicians through consistent bias and editorial manipulation of content of all kinds, including the selection of stories, interviewees and audio and images.  
The extent of the partisanship and the absence of any genuine attempt to ensure due impartiality  revealed by this monitoring raises the question of whether "Wiadomości" could be said to have acted simply as a campaigning instrument on behalf of PiS. By law electoral campaigning is an activity which is reserved for political parties. It must be regulated by the Electoral Commission and campaign budgets are limited by law.
The bias in favour of the government shown by Polish public TV also points to another more significant danger: if standards of impartiality and editorial integrity in public media in some EU member states continue to decline, then voters in the affected countries will be deprived of a reliable basis on which to make informed choices about their leaders and the policies they should advance for the public good.
This situation leads the Journalists' Society of Poland to propose that the time has come for the EU itself to consider taking on responsibility for EU-wide monitoring of media behavior during elections. The EU should also do everything possible to ensure that media regulators in member states fulfill their legal obligations, so helping to ensure fair reporting, an informed public debate and  democratic standards.
You can see full footage of the presentation below, and you can access the presentation slides here.