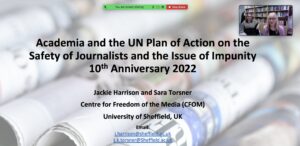 CFOM researchers took part in a symposium organised by Brigham Young University's Professor Ed Carter on Friday 18 November. The symposium, 'Ending Impunity for Attacks on Journalists', was sponsored by Communication Law & Policy and featured speakers from around the globe. UNESCO Chair on Media Freedom, Journalism Safety and the Issue of Impunity and CFOM Chair, Professor Jackie Harrison, and CFOM Research Associate, Dr Sara Torsner, delivered one of the keynote talks of the session. They emphasised the importance of academia in raising awareness to issues of journalism safety and impunity.
Professor Harrison discussed CFOM's role in the United Nation's Plan of Action on the Safety of Journalists and the Issue of Impunity (UNPA) Tenth Anniversary. CFOM has led the academic consultation on the UNPA and Professor Harrison discussed their findings at the Safety of Journalists: Protecting Media to protect Democracy High Level Conference in Vienna, Austria on 3-4 November 2022. The academic consultation included three rounds of discussions concerning the UNPA and potential recommendations that academia could make to improve the implementation of the UNPA alongside a literature stocktake. More details can be found on the consultation and conference here.
Dr Torsner discussed the findings from the literature stocktake, detailing how there had been an increased focus on journalism safety in academic works since the creation of the UNPA and a focus on particular areas, such as digital threats and gender-specific safety threats.
Summing up the keynote speech, Professor Harrison stated that the database of literature that has been used will be made available on CFOM's website alongside information from the academic report in due course.
CFOM's International Director, William Horsley, and Impact Fellow, Dr Gemma Horton, also took part in the symposium, acting as discussants in panel sessions.