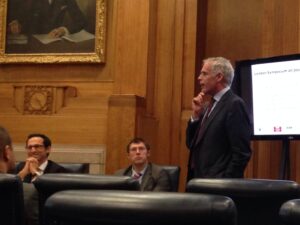 Peter Horrocks (above) deliveres opening remarks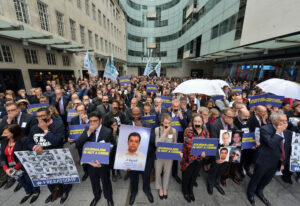 Protesting journalists unjustly jailed outside New Broadcasting House 
On 7 April 2014 the BBC and CFOM co-hosted a conference in BBC's Broadcasting House in London. The event, 'Making the Protection of Journalists a Reality: Time to end Impunity', featured sixty international media editors, jurists and other experts. Discussions revolved around media investigations and reports into antimedia violence and impunity. There was also consideration given into ways to improve safety practices and it was stated that urgent action needed to be taken by governments and UN bodies to strengthen protections. 
Peter Horrocks, the then Director of BBC Global News, delivered opening remarks arguing that media organisations should do more to protect journalists. Guy Berger, the then UNESCO Director of Freedom of Expression and Media Development, also delivered a keynote speech in which he talked about the importance of 2 November as the International Day to End Impunity for Crimes Against Journalists.
CFOM's International Director, William Horlsey, moderated the panel 'Fighting Impunity through law – The role of international bodies and governments'. A protest was also held outside New Broadcasting House as a show of solidarity with journalists who are unjustly held in jails in countries around the world.