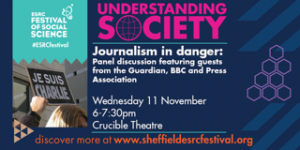 In anticipation of 2016's annual lecture from Guy Berger, here are details of all the previous CFOM annual lectures.
In 2015 we hosted a Question Time style event called Journalism in Danger. 
The panelists were, Ellen Manning, Former Chief Reporter for Press Association, Emma Beals, Freelance journalist, Simon Marr, BBC Director of Safety, Security & Resilience, Jackie Harrison, Chair for the Centre for the Freedom of the Media (CFOM) and Professor of Public Communication in the Department of Journalism Studies, University of Sheffield, and William Horsley, International Director, Centre for Freedom of the Media (CFOM).
Read the biographies of the panel speakers
Read the blurb for the panel discussion
In 2013, Nicholas Tsagourias presented his paper on Legal protection of journalists in dangerous situations.
Increasingly, journalists are being put in danger in their attempts to report from war zones, and in difficult areas. This, coupled with the rise of citizen journalists, has prompted a new era of danger for journalists, and new research must be conducted into how best to protect them.
In 2012, for our first Annual Lecture we were visited by Sadeq Saba, Head of BBC Persian Service, who gave a talk titled "Revisiting Freedom of Speech in the 21st Century". 
You can read more about this lecture here
A full video of the lecture is available here.