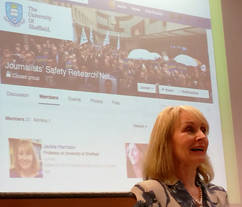 A group of 40 researchers took part in a UNESCO workshop held this week at the 2016 conference of the International Association for Media and Communication Research at the University of Leicester, UK.
The occasion also served to publicise a new network for sharing knowledge projects about the safety of journalists. Hosted initially by the University of Sheffield's Centre for the Freedom of the Media (CFOM), with a dedicated Facebook page, the network can be joined by sending an email  to the Centre.
Guy Berger, Director for Freedom of Expression and Media Development at UNESCO, opened the discussion, saying: "There is growing momentum worldwide to secure safety for journalism, which means that research on this problem is highly relevant.
"By being part of a network and community of research practice, academics can make impact, mobilise resources for field work, and discover new avenues to disseminate their findings."
His message was underlined in remarks by Albana Shala, chair of UNESCO'sInternational Programme for the Development of Communication (IPDC). She noted that IPDC would consider support for research into journalism safety, and drew attention to the Director General's report to be presented to the IPDC Council in November.
In one of the panel presentations, CFOM's Prof Jacqueline Harrison described a research project, supported by IPDC, which is interviewing scores of editors and journalists in six countries including their views on the UN Plan of Action on the Safety of Journalists and the Issue of Impunity.
She called for research that went into depth, beyond presenting the statistics of attacks on journalists, and motivated for co-operation in a research field that was currently fragmented.
Another speaker, Dr Mireya Marquez Ramirez of Universidad Iberoamericana stated that "safety starts at home". She therefore proposed investigations into the practical needs of journalists and how media proprietors regarded these.
Prof Basyouni Hamadi of Qatar University reported research findings which found that the credibility of journalists was a factor in terms of whether they were attacked. He unpacked many influences which limit the professional autonomy of journalists.
Dr Chris Paterson, of Leeds University, urged research into the impact on international law from extra-territorial attacks by governments, which is the subject of his recent book "War Reporters Under Threat" (Pluto Press).
Audience participants Prof Ivor Gabor encouraged research into journalists' associations and safety, and Prof Aimée Vega Montiel highlighted the need to assess the conditions for women journalists in particular.
From UNESCO, Reeta Poyhtari summarised UNESCO's research and related events, as well as the Organisation's 10 point agenda for scholarship on journalistic safety.
Originally published here. Republished with permission.